Having trouble choosing your blooms with so many options? Start with these tried-and-true favorites.

Picture yourself walking through a glorious garden with every flower at its peak. Which flowers would you go with for your wedding: something classic or trendy? Colorful or neutral? Large or minimal? If your answer is something along the lines of, "I don't even know where to start," we'll help you narrow down your flower options before you meet with your florist.
Before providing you with beautiful  wedding flower bouquet inspiration, it's probably best we start by answering some of the most frequently asked questions about bridal flower bouquets. Whether you are planning for your upcoming wedding or helping your best friend plan hers, check our list of wedding bouquet FAQs for the inside scoop.
What is the best flower for a wedding bouquet? The answer to this really comes down to personal preference. There is no "best" flower because each one is lovely in its own right. Maybe you want a big and bold flower or a light and dainty one. Choosing the best flower often comes down to the vision you have for your day. For some of our favorites, check out our ten bridal flower bouquet ideas below.
What flowers should not be in a wedding bouquet? Believe it or not, there are some flowers you may want to avoid. For example, poppies are beautiful, but their pollen can easily stain your dress. Daffodils are another flower to avoid since they can potentially kill other flowers in your arrangement because of a toxic sap they release when sharing water with other blooms. Meanwhile, hellebores and astilbes tend to wilt quickly, so it is best to choose a flower that will hold up long after clipping it for your arrangement. But at the end of the day, your flower arrangement is a personal preference, so choose the flower that most speaks to you.
How much is a bouquet of flowers for a wedding? The price of a wedding flower bouquet will depend on a number of factors, such as what kind of flowers you choose and whether they are in season, the size of the arrangement and the complexity of the arrangement. Obviously, the bigger and more complex the bouquet, the more expensive it will be. On average, a bridal flower bouquet can range anywhere from $100 to $200.
Begin with the basics, aka the top 10 most beautiful, timeless and popular wedding flowers.
10 of the Best Bridal Flower Bouquet Options
1. Roses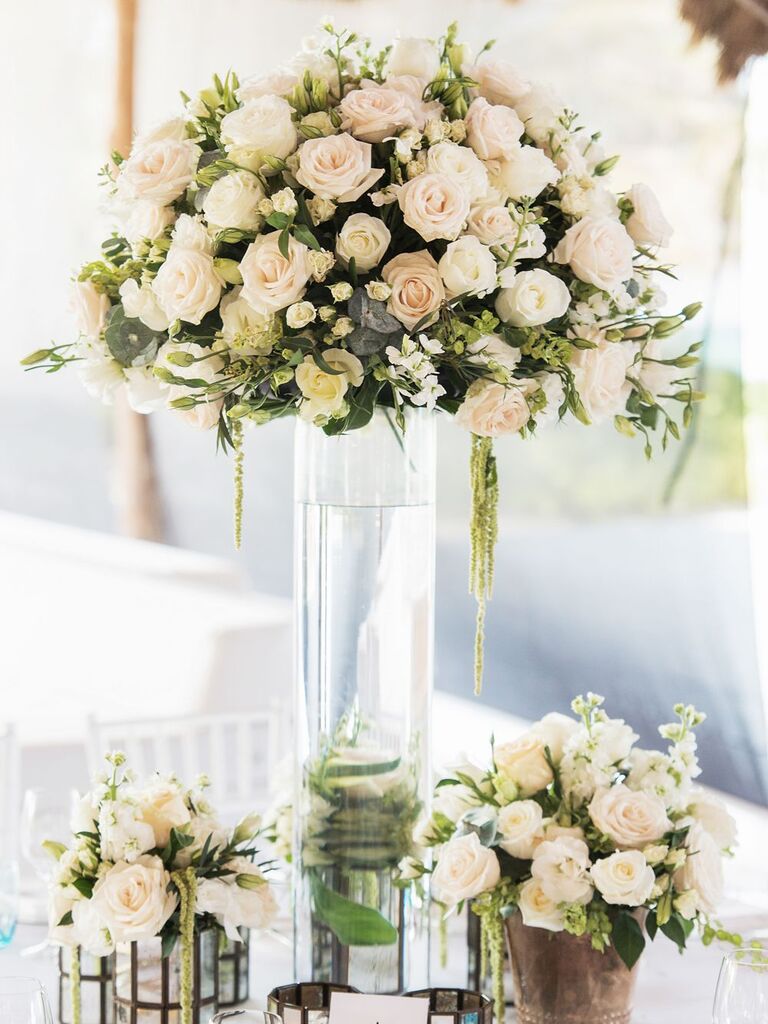 Long considered a symbol of beauty and love, roses figure into many myths and fairy tales. Romantic writers and poets have used the flower as a metaphor for emotion, beauty, passion and true love. An all-star in the world of weddings, the rose is far from boring, particularly when it comes to color—roses are available in solid hues and bicolor varieties—there are even striped and tipped roses as well. More than 3,000 varieties of roses are grown commercially, and many are available year-round and are surprisingly affordable. And though roses are associated with luxurious fragrance, not every rose is scented. Three main types of roses are most popular for wedding flowers: hybrid tea roses (the classic, uniformly shaped commercial roses generally seen at your local florist), spray roses (a rose with five to ten small heads on each stem and a "natural, garden-grown" look) and garden roses (expensive, old-fashioned varieties with bushy, open heads and delicious scents).
2. Tulips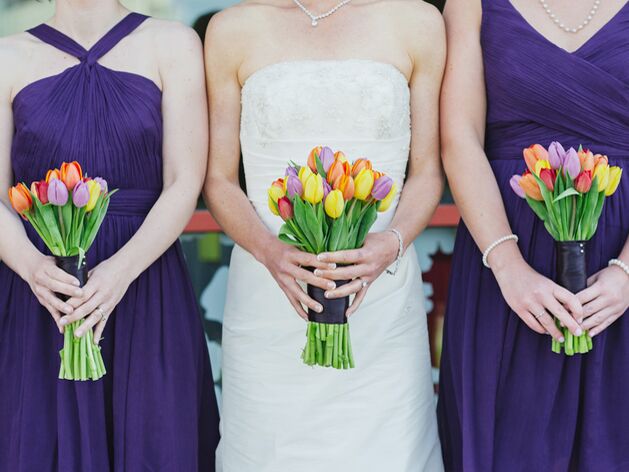 Although tulips are most often associated with the Netherlands, this flower is actually a native of Persia. Representing "consuming love" and "happy years," the tulip can be a meaningful wedding choice. This flower is grown in a wide range of hues, including white and cream, pastels (pink, yellow and peach) and vibrant shades (magenta, red, orange and purple). Available during much of the year, the most common tulips are very affordable, though rare varieties can be expensive. The versatile tulip can enhance both elegant wedding settings and more casual venues, and work well in almost any detail at a wedding—from bouquets and boutonnieres to table arrangements. Three main varieties are commonly used: Dutch tulips (typically seen at neighborhood florist shops and in gardens), French tulips (expensive and elegant, with extra-long stems and large tapered blooms) and parrot tulips (noted for their ruffled, striped petals in intense colors).
3. Calla Lilies
Also known as the arum lily, this elegant, trumpet-shaped blossom originated in Africa and symbolizes "magnificent beauty" in the language of flowers. The calla lily's distinctive form has been depicted in art nouveau and art deco works, in addition to 20th-century photography. Two types are commonly available: a large-headed variety with a long, smooth stem suitable for tall arrangements or presentation-style bouquets, and a miniature version ideal for small arrangements and boutonnieres. Creamy ivory is the most popular color, but calla lilies also come in yellow, orange, mauve pink and dark purple (a stunning choice for a slightly edgier or cold-weather wedding bouquet).
4. Lily of the Valley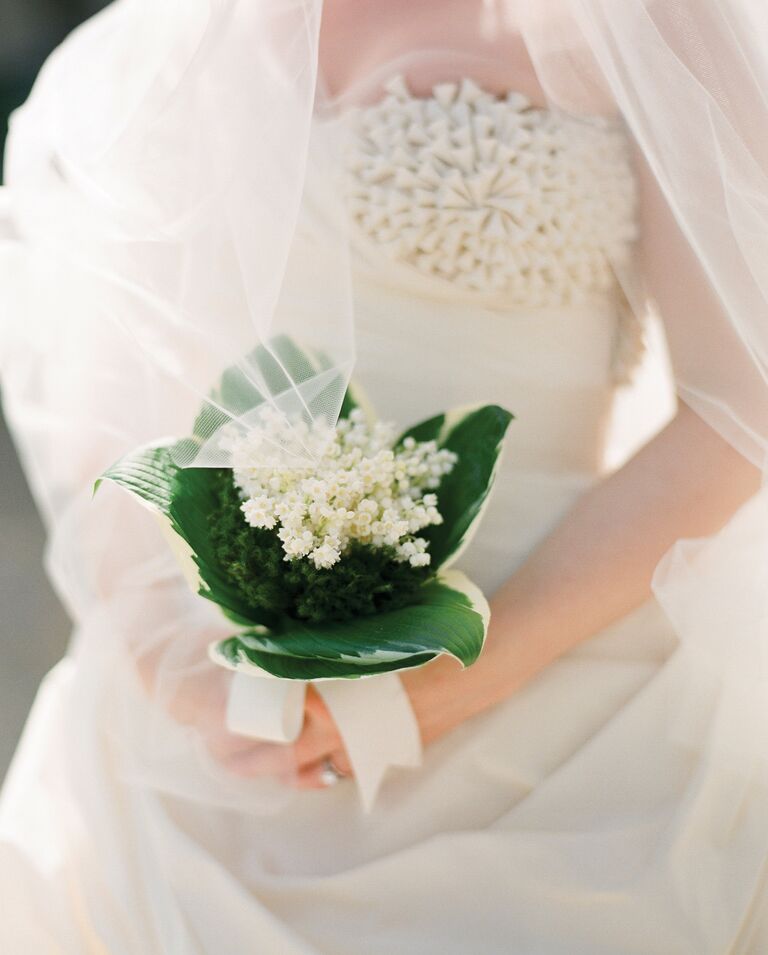 With tiny bell-shape florets dangling from a thin stem, the lily of the valley is sometimes called "the ladder to heaven." The fresh, perfumed scent from its petite flowers is unmistakable. In Norse mythology, the flower is linked to Ostara, the goddess of springtime—but you likely remember it from Kate Middleton's royal wedding bouquet in 2011. And while most plentiful during the spring, it remains available—though quite pricey—most of the year. So while a fistful of lily of the valley might be your dream, a more affordable alternative may be to use just a few stems to infuse a bouquet or centerpiece with its wonderful fragrance and delicate texture. Most people know of the white variety, but lily of the valley also comes in a very rare rosy-pink.
5. Hydrangeas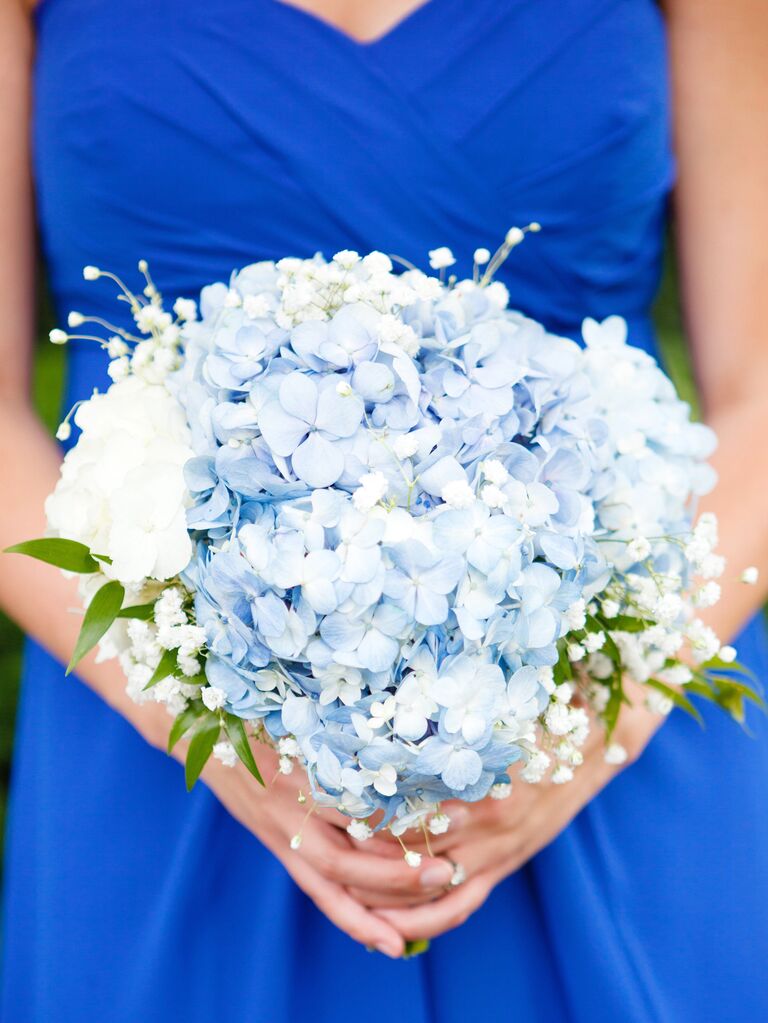 With its full bushy head and intense shades of pink, blue, burgundy and purple, it's no wonder the hydrangea represented "vanity" in the Victorian language of flowers (but don't worry, you're not vain if you love hydrangeas). One of the most popular hydrangea varieties changes in color from bubble-gum pink to sky blue as it grows, depending on the acid level of the soil. A stem or two of this moderately priced, scentless shrub flower fills out arrangements and bouquets, and a few sprigs make a charming boutonniere. You'll find the hydrangea in white and shades of green, pink, burgundy and blue.
6. Peony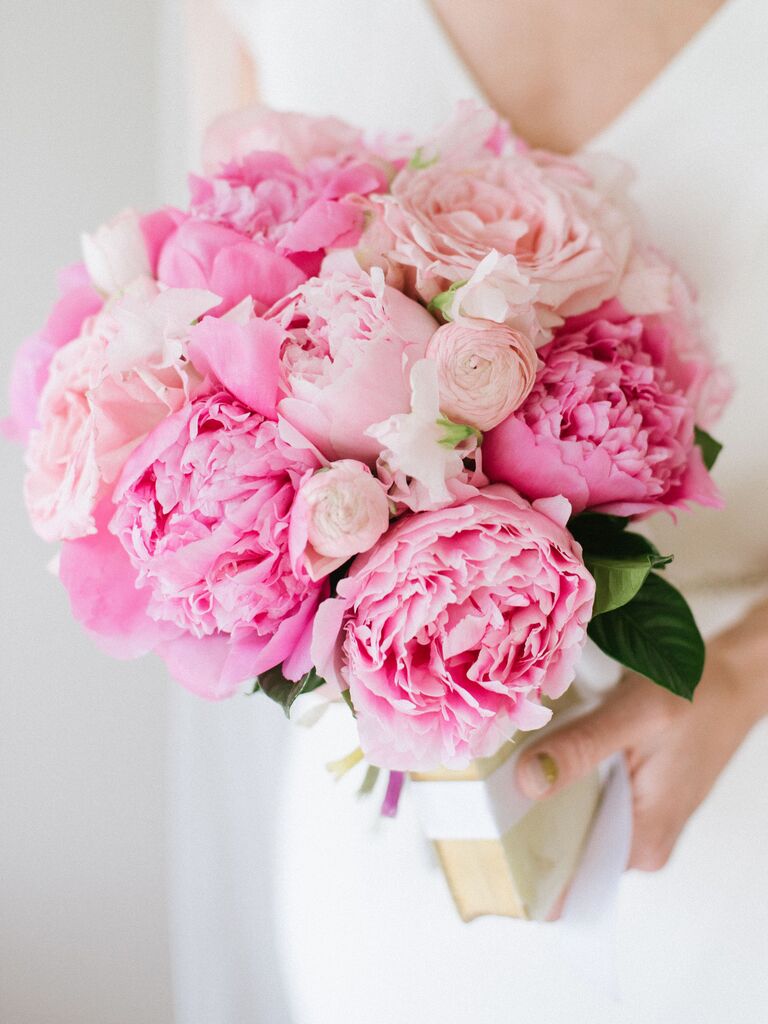 Prized for its delicacy and impressive beauty, the peony has a voluminous strong perfume and bright color. But despite its outward showiness, the flower acquired the Victorian meaning of "bashfulness." Cultivated in Asia for more than a thousand years and developed further by the French, the peony is available in two main types, the herbaceous and the tree peony (the latter's flowers don't last as long when cut). A bouquet made solely of peonies can be gorgeous; the flower can also be used to create beautiful centerpieces and arrangements. Grown in single- and double-flower styles, this expensive bloom is seasonally available from late spring to early summer but can be imported in the fall.
7. Ranunculus
Looking for a cost-effective alternative to roses or peonies? Try the lush, multi-petaled ranunculus, a wedding-ready relative of the buttercup. First seen by Westerners in the Far East around the 13th century, this mild-scented flower features several blossoms on a stem with fernlike foliage. To carry ranunculus is to tell your partner, in the Victorian language of flowers, "I am dazzled by your charms"—not bad, huh? A natural for bride or bridesmaid bouquets, the ranunculus also makes a whimsical boutonniere and is available in many colors including white, yellow, orange and pink.
8. Stephanotis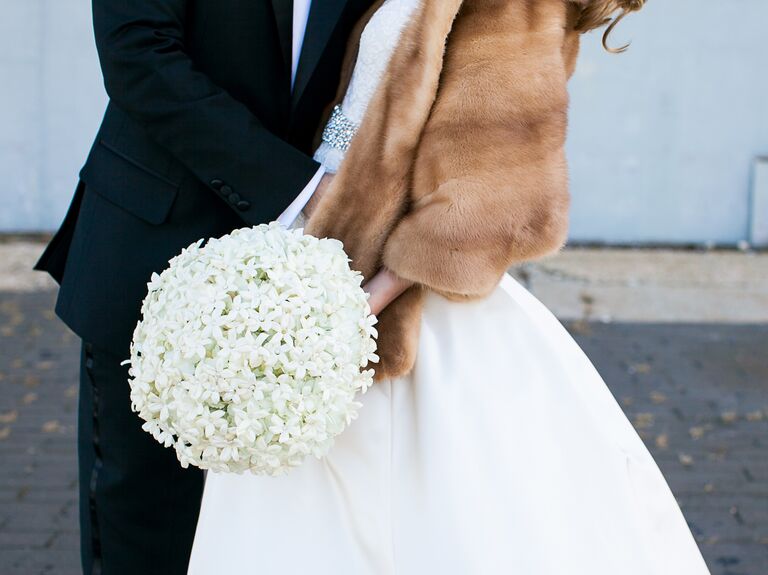 The Victorian meaning for this flower is "marital happiness," making the dainty white Stephanotis an obvious choice for weddings. The star-shape, waxy florets actually grow on a flowering vine—each vine must be individually wired or placed onto a special holder before it can be arranged. A bouquet of stephanotis blossoms is one of the most traditional a bride can carry, and a stephanotis boutonniere is a classic choice for a formal wedding. It's mildly scented, available year-round and moderately priced (but you'll pay for labor if your florist is assembling a bouquet).
9. Sweet Peas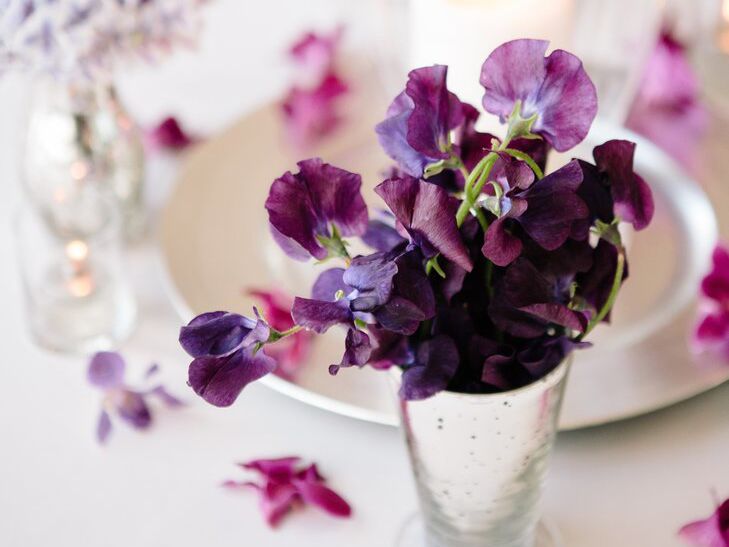 The sweet pea, which signifies "lasting pleasure," was first brought to England from Sicily in 1699, and the English have had a love affair with this delicate flower ever since. Its candy-like scent and ruffled blossoms make this an old-fashioned favorite in bouquets for the bride and her bridesmaids. The sweet pea's many colors range from white to intense pinks and purples, and its scent can be strong and sweet.
10. Gardenia
Surrounded by dark green, waxy leaves, the exquisite gardenia exudes a strong, sultry scent. It was this intoxicating fragrance that captivated an English sea captain traveling through South Africa in 1754, prompting him to bring home one of the native plants as a souvenir. Gardenias are lovely tucked into a bouquet or floating in a low bowl as a centerpiece, and a single gardenia makes a wonderful scented corsage, boutonniere or hair accessory. But be gentle: the delicate ivory petals of this expensive flower can bruise easily. Large three- to four-inch blossoms, as well as a miniature variety, are available too.
 Article originally published on The Knot.